The Edge Professional Drivers Ruler 8562/760-R
Easy to use and eliminates confusion.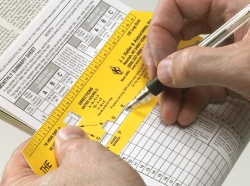 8562/760-R
"The Edge" Professional Drivers' Ruler 8562/760-R helps drivers improve the accuracy of their log book calculations reducing the chance of excess hours on-duty, violations and fines. One convenient die-cut opening includes both 70-hour/8-day calculations.
Hours of Service ruler runs along top edge for easier use. Tire-tread depth gauge printed on back side.
Works with J.J. Keller's 8 1/2"W x 5 1/2"L and 8 1/4"W x 8 1/2"L log books.
Specifications
7 1/4"W x 2"L
Flexible plastic
Features
both 70-hour/8-day calculations
Pricing and Ordering
20-49
50-99
100-249
250-499
500-999
1,000 or more
For more price info
Quantity
Order Now!
$ 5.28 each
$ 4.66 each
$ 4.06 each
$ 3.47 each
$ 3.34 each
$ 3.15 each
Contact Us

Back to Top
Go Back To Log Book Companions Main Page
Log Books Main Page
Log Books Comparative Matrix
Highly Recommended