Imprinted 2 in 1 Driver's Daily Logs 3-ply with Carbon Detachable Detailed DVIR Without Recap 19584/606-L-C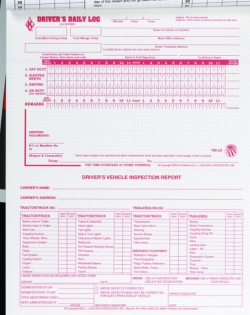 19584/606-L-C
PDF Sample
This 3-ply Imprinted 2 in 1 Driver's Daily Logs 3-ply with Carbon Detachable Detailed DVIR Without Recap 606-L-C is a Book Format A log book that has "NO" recap but has a Detailed Driver's Vehicle Inspection Report (DVIR) printed on the front which is perforated for easy removal. This log can also be used for compliance with DOT's Hours of Service Rule.
This log book also features a monthly summary sheet with instructions for the 34-hour restart provision, and a summary of DOT's Driver's record of duty status regulations to help simplify compliance.
606-L is exactly the same with 605-L except that the former is a 3-Ply Log. Image shown is 705-LD (Carbonless 2-ply)
Specifications
Detailed DVIR
without Recap
with Carbon
3-Ply
Book Format A
31 sets per book
Monthly Summary Sheet
Overall Size: 8 1/2"W x 11"L
Features
This format (Book Format A) includes the following:
Total Mileage Today box
Home Terminal Address line
"From" line
"To" line
Pricing and Ordering
100-149
150-299
300-499
500-999
1,000-2,499
2,500 or more
For more price info
Quantity
Order Now!
$ 15.78 each
$ 14.27 each
$ 11.75 each
$ 8.74 each
$ 6.43 each
$ 5.80 each
Contact Us
NOTE: Imprint orders are not returnable unless we have made an error. Please allow approximately 5 - 6 weeks for your order to be processed. Imprint log book orders are subject to a 10% overrun and charge. This overrun is a printing industry standard. The overrun quantity and charge will be added automatically.
Please see Imprinted Log Books standards section of Frequently Asked Questions for more information.

Back to Top
2 in 1 Driver's Daily Logs
Go Back To Driver's Daily Logs Main Page
Log Books Main Page
Log Books Comparative Matrix
Highly Recommended