Imprinted 3 in 1 Driver's Daily Logs 3-ply Carbonless Detachable Detailed DVIR Recap Loose-leaf 14856/728-FS-I3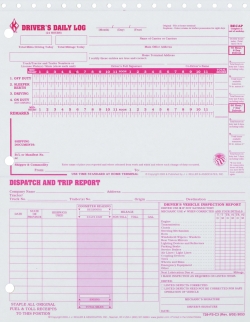 14856/728-FS-I3
PDF Sample
Imprinted 3 in 1 Driver's Daily Logs 3-ply Carbonless Detachable Detailed DVIR Recap Loose-leaf 728-FS-I3 log sheet that has a Detailed Driver's Vehicle Inspection Report (DVIR). This log can also be used for compliance with DOT's Hours of Service Rule.
Specifications
Loose-leaf Format
3-Ply
Carbonless (no carbon)
Detailed DVIR
Recap
Overall Size: 8 1/2"W x 11"L
Features
This 3 in 1 log sheet has the following all on a single form:
Driver's Daily Log
Detailed DVIR
Dispatch and Trip Report
The log sheet also has the following features:
Total Mileage Today box
Home Terminal Address line
"From" line
"To" line
Pricing and Ordering
Sold by individual log sheet
1,000-2,499
2,500-4,999
5,000-6,999
7,000-9,999
10,000-14,999
15,000 or more
For more price info
Quantity
Order Now!
$ 0.63 each
$ 0.54 each
$ 0.50 each
$ 0.49 each
$ 0.47 each
$ 0.46 each
Contact Us
NOTE: Imprint orders are not returnable unless we have made an error. Please allow approximately 5 - 6 weeks for your order to be processed. Imprint log book orders are subject to a 10% overrun and charge. This overrun is a printing industry standard. The overrun quantity and charge will be added automatically.
Please see Imprinted Log Books standards section of Frequently Asked Questions for more information.
Back to Top
3 in 1 Driver's Daily Logs
Go Back To Driver's Daily Logs Main Page
Log Books Main Page
Log Books Comparative Matrix
Highly Recommended