5 in 1 Driver's Daily Logs 8547/607-FS-C2
2-Ply Carbonless Loose-leaf With Detailed DVIR With Recap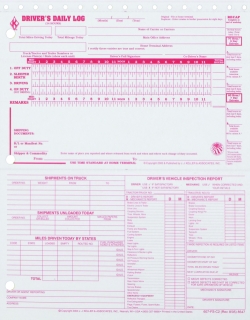 8547/607-FS-C2
PDF Sample

Imprint for this log is available here.
This 5 in 1 Driver's Daily Logs 607-FS-C2 is a Carbonless 2-Ply Loose-leaf Format log sheet that has a Detailed Driver's Vehicle Inspection Report (DVIR). This log can also be used for compliance with DOT's Hours of Service Rule.
Specifications
Carbonless
Detailed DVIR
Recap
3-Ply
Loose-leaf
Overall Size: 8 1/2"W x 11"L
Features
The handy 5-in-one logs save time effort by including the features below all in one document
Driver's Daily Log
Detailed DVIR
"Shipments on truck" record
"Shipments unloaded" record
"Miles driven by state" record
Pricing and Ordering
Sold by individual log sheet
250-499
500-999
1,000-2,499
2,500-4,999
5,000-9,999
10,000 or more
For more price info
Quantity
Order Now!
$ 0.58 each
$ 0.48 each
$ 0.42 each
$ 0.36 each
$ 0.33 each
$ 0.31 each
Contact Us
This Custom Page log books allows you to put your Company Name, Address, Date or whatever you want.
1000-2,499
2,500-4,999
5,000-6,999
7,000-9,999
10,000-14,999
15,000 or more
Quantity
Order Now!
$ 1.00 each
$ 0.18 each
$ 0.05 each
$ 0.03 each
$ 0.02 each
$ 0.01 each

Discontinued
NOTE: Custom Page orders are not returnable unless we have made an error. Please allow approximately 4 - 5 weeks for your order to be processed. Custom Page orders are subject to a 10% overrun and charge. This overrun is a printing industry standard. The overrun quantity and charge will be added automatically.
Back to Top
5 in 1 Driver's Daily Logs
Go Back To Driver's Daily Logs Main Page
Log Books Main Page
Log Books Comparative Matrix
Highly Recommended