Spanish/English Driver's Daily Logs With Simplified DVIR 8581/631-L
2-Ply Book Format A With Recap
Includes both required and non-required items plus Side Recap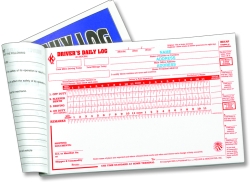 8581/631-L
Sample PDF Front | Back

Imprint for this log book is available here.
This Spanish/English Driver's Daily Logs With Simplified DVIR 632-L log book features a Simplified Driver's Vehicle Inspection Report (DVIR) printed on the back of each log, a 7- and 8-day recap to help drivers quickly determine hours available, and can be used for compliance with the current DOT's Hours of Service rule.
This log book also features a monthly summary sheet with instructions for the 34-hour restart provision, and a summary of DOT's Driver's record of duty status regulations to help simplify compliance.
Specifications
In Spanish and English
31 Sets Per Book
2-Ply
with Carbon
with Recap
Simplified DVIR (Driver's Vehicle Inspection Report) on the back of each log
Monthly Summary Sheet
Book Format A
Overall Size: 8 1/2"W x 5 1/2"L
Features
Total Mileage Today box
Home Terminal Address line
"From" line
"To" line
Pricing and Ordering
25-99
100-199
200-299
300-499
500-999
1,000 or more
For more price info
Quantity
Order Now!
$ 6.12 each
$ 5.25 each
$ 4.76 each
$ 4.58 each
$ 3.82 each
$ 3.16 each
Contact Us
Now Available!
631-L with Customized Cover
Imprint your Company Info on front cover in 3 colors. DriverLogBooks recommends contacting us first for price quotes, with your Company info and Logo. Pricing changes without prior notice.
1,000-1,499
1,500 or more
Quantity
Order Now!
$ 2.49 each
$ 1.90 each

Back to Top
Go Back To Driver's Daily Logs Main Page
Log Books Main Page
Log Books Comparative Matrix
Highly Recommended