Luma-Writer™ Pen 588-MP
Drivers - when it's dark, make your mark!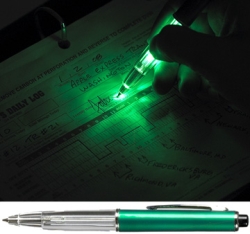 588-MP
Time-sensitive paperwork can't wait for the light of day! With the Luma-Writer™ Pen 588-MP, drivers can see clearly to fill out their daily logs, pre- and post-trip inspection forms, or accident reports during late-night or early-morning low-light conditions.
Helps result in less eye strain for drivers, and neater, more accurate paperwork for your company. Also useful for note-taking in darkened training areas.
Feature
Lights up when needed with just a click!
Pricing and Ordering
12-23
24-47
48-95
96-239
240 and more
Quantity
Order Now!
$ 4.23 each
$ 3.81 each
$ 3.38 each
$ 3.13 each
$ 2.90 each

Back to Top
Go Back To Log Book Companions Main Page
Log Books Main Page
Log Books Comparative Matrix
Highly Recommended