Loose-leaf Forms Binder 11731/716-R
Large Size 10" W x 11 5/8" L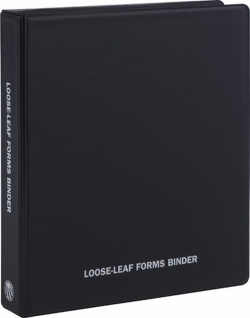 11731/716-R
Large Size Vinyl Loose-leaf Forms Binder 716-R binder keeps your important forms and supplies neatly stored.
White lettering on sturdy, rigid black vinyl
Inside front cover 4" deep clear pocket
4" pockets on spine and back.
has 1" ring capacity clasp that allows drivers to organize 3-hole punched copies of completed forms.
rigid cover provides a hard surface for writing.
features a full-size sheet divider prevents image transfer to forms below
ID card in front pocket can be filled out with company and emergency contact information.
Specifications
Size:

Large Size, 10" W x 11 5/8" L when closed

Color:

Black with White Lettering (Outside)

Can Hold Up To (Log Size) :

8 1/2" W x 11" L

Material:

Vinyl
Features
inside clear pocket
1"-ring capacity clasp
outside cover lettering
ID pocket in front with card
sheet divider
Pricing and Ordering
5-9
10-24
25-49
50-99
100-249
250 or more
More Orders
Quantity
Order Now!
$ 13.11 each
$ 11.33 each
$ 10.40 each
$ 9.32 each
$ 8.37 each
$ 7.44 each
Contact Us
Discontinued

Back to Top
Loose-leaf Binders & Holders
Log Binders, Covers, Holders & Envelopes
Log Books Main Page
Log Books Comparative Matrix
Highly Recommended