Loose-leaf Forms Binder 11730/709-R
Medium Size 9 1/2" W x 10 1/4" L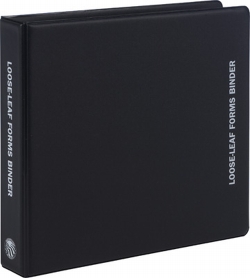 11730/709-R
Medium Size Loose-leaf Forms Binder 709-R is a vinyl binder that allows you to keep important forms and supplies neatly stored.
It cover has sturdy, rigid black vinyl with white lettering.
A 4" deep clear pocket is included in the inside front cover.
It has additional 4" pockets on spine and back.
It has a 1" ring capacity clasp that allows drivers to organize 3-hole punched copies of completed forms.
The rigid cover provides a hard surface for writing.
It features a full-size sheet divider prevents image transfer to forms below
Includes an ID card in front pocket can be filled out with company and emergency contact information.
Specifications
Size:

Medium Size, 9 1/2" W x 10 1/4" L when closed

Color:

Black with White Lettering (Outside)

Can Hold Up To (Log Size) :

8 1/2" W x 8 7/8" L

Material:

Vinyl
Features
outside cover lettering
ID pocket in front with card
sheet divider
1"-ring capacity clasp
inside clear pocket
Pricing and Ordering
5-9
10-24
25-49
50-99
100-249
250 or more
More Orders
Quantity
Order Now!
$ 17.94 each
$ 15.60 each
$ 14.24 each
$ 12.17 each
$ 11.33 each
$ 10.01 each
Contact Us

Back to Top
Loose-leaf Binders & Holders
Log Binders, Covers, Holders & Envelopes
Log Books Main Page
Log Books Comparative Matrix
Highly Recommended