Ergonomics: A Step-by-step Program Developer 250-M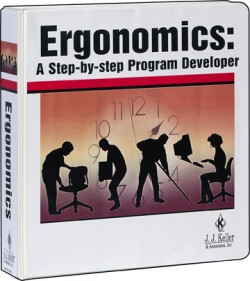 250-M
Use this timesaving resource to develop an ergo program specifically for your company.
Well-organized and ready to use, J. J. Keller's Ergonomics: A Step-By-Step Program Developer will help you develop a sound ergonomics program that will improve productivity, boost employee morale, and reduce musculoskeletal injuries and their related costs.
Covers job assessment, planning, industry applications, program evaluation, forms completion, NIOSH elements of ergonomics programs, and much more.
700 pages. Loose-leaf, 3-ring bound.
ISBN 1-57943-926-8
| Sample Pages | PDF* | File Sizes |
| --- | --- | --- |
| Table of Contents | | 10KB |
| Industry Applications | | 22KB |
| What is Musculoskeletal disorders (MSDs)? | | 19KB |
| Musculoskeletal disorders (MSDs) | | 25KB |
| Musculoskeletal disorders (MSDs) | | 22KB |
Note: You must have Adobe Acrobat Reader installed to view the PDF sample pages. If you are not able to view the sample pages, click here to download Adobe Acrobat Reader from Adobe website for FREE.
OSHA Guides, Handbooks and Manuals
Highly Recommended