Safety Answer Book 67-M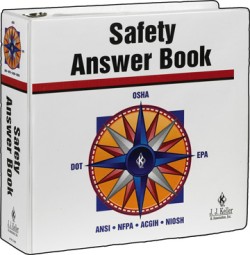 67-M
Which regulations apply to your company? Don't guess - use the Safety Answer Book for fast, accurate answers!
Here's a quick, convenient way to find out which key OSHA, DOT, and EPA regulations apply to your company.
The Safety Answer Book is carefully organized to help you answer basic compliance questions, pinpoint who you need to train, figure out what your employees need to know, assess which safety plans and policies you'll need, and more.
You'll find 90+ different topics covered in easy-to-understand language. Got a question on forklift safety... fire protection... first aid? You'll find it fast in the Safety Answer Book!
Loose-leaf, 3-ring bound. 977 pages.
ISBN 1-877798-46-0
View Samples
| Sample Pages | PDF* | File Sizes |
| --- | --- | --- |
| Table of Contents | | 53KB |
| Accident Investigation | | 58KB |
| Personal Protective Equipment-General | | 315KB |
| Signs and Tags | | 54KB |
| Walking and Working Surfaces | | 112KB |
Note: You must have Adobe Acrobat Reader installed to view the PDF sample pages. If you are not able to view the sample pages, click here to download Adobe Acrobat Reader from Adobe website for FREE.
OSHA Guides, Handbooks and Manuals
Highly Recommended