Written Safety Plans Manual 66-M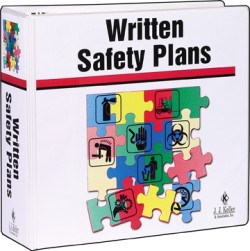 66-M
Helps you write the plans you need for regulatory and non-regulatory workplace safety topics!
This timesaving (and stress-reducing) manual helps you put together an entire company-specific written safety plans program, without reinventing the wheel.
It covers more than 30 safety topics, including ...
Bloodborne pathogens
Confined spaces
Electrical safety
Ergonomics
Hazardous waste
Hazcom
Lockout/tagout
Motor vehicle operation
Pandemic flu
PPE
Site security
Temperature extremes
And more.
Loose-leaf, 3-ring bound, 900 pages.
ISBN 1-877798-40-1
Topics covered
The Written Safety Plans Manual 66-M helps you write the safety plans you need. A full listing of the topics covered in this manual is shown below.
Accident Reporting & Investigation
Bloodborne Pathogens
Combustible Dust Safety
Compressed Gases
Confined Space Entry
Disaster Recovery
Electrical Safety
Emergency Action Plans (EAPs)
Ergonomics
Fire Prevention
Forklift Operation
Generic Written Safety Plan
Hazard Communication
Hazardous Waste
HAZWOPER
Hearing Conservation
Job Safety Analysis
Laboratory Standard

Lockout/Tagout
Machine Safety/Equipment Usage
Motor Vehicle Operation
Pandemic Flu
Personal Protective Equipment
Process Safety Management
Respiratory Protection
Risk Management Plan
Safety & Health Program
Safety Committees
SARA Title III
Site Security Plan
Stairways and Ladders
Subpart Z Chemical Specific Assessments
Temperature Extremes Management Plan
Visitor Safety
Welding & Cutting Procedures
View Samples
| Sample Pages | PDF* | File Sizes |
| --- | --- | --- |
| Table of Contents | | 36KB |
| Confined Spaces | | 56KB |
| Hazard Communication | | 55KB |
| Overview | | 48KB |
| Lockout/Tagout | | 66KB |
Note: You must have Adobe Acrobat Reader installed to view the PDF sample pages. If you are not able to view the sample pages, click here to download Adobe Acrobat Reader from Adobe website for FREE.
OSHA Guides, Handbooks and Manuals
Highly Recommended