AluLock™ 5.0 Cable Seals - 18" Blue 324-RB
Convenient packaging makes tracking and recording seal numbers easier for your security seal management program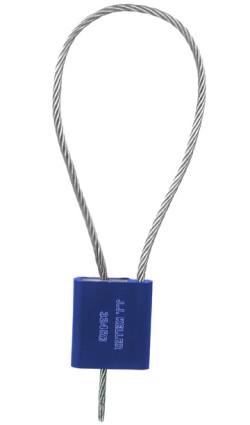 324-RB
Out of Stock-No Expected Date
Note: Stock seals must be purchased in increments/multiples of 50.
For High Security!
J. J. Keller's AluLock™ 5.0 Cable Seals are C-TPAT compliant and meet or exceed ISO/PAS 17712 requirements as High Security Seals. Download the ISO 17712 certificate (PDF, 251KB) here.
AluLock™ 5.0 Cable Seals - 18" Blue 324-RB can be used on trailer doors, railcars, cargo containers and shipping containers to secure import/export goods worldwide. Requires 3,439 pounds of pull-apart strength to disengage.
Features:
Galvanized steel aircraft cable and anodized aluminum alloy body that are corrosive resistant and designed to withstand severe environmental and climatic conditions.
Easy-to-read jumbo numbering and pale seal colors that enhance the contrast of the laser imprint/numbering.
Annealed cable tip for easy handling and insertion into the cable body.
Thick 5.0 mm cable that is more rigid than smaller diameter cables. That and the 18" length make this seal easier to work with and fasten securely.
Non-preformed cable that splays after cutting to prevent reuse.
Convenient packaging that makes seal distribution easy to record and manage. 10 sequentially numbered seals are packaged in a heat-sealed bag that's clearly labeled with the range of seal numbers enclosed.
Can be used for:
Railcars
Container Door Latches
Trailer Doors
Shipping Containers
Bulk & Liquid Tankers
Bulk Tank Valves/Hatches
Stock seals (available in blue only) are pre-printed with "JJ Keller" and a 6-digit number.
NOTE: Stock seals must be purchased in increments of 50.
Pricing and Ordering
Product
50-249
250-499
500-999
1,000-2,999
3,000-4,999
5,000-9,999
Quantity
Order Now!
AluLock™ 5.0 Cable
Seals - 18" Blue 324-RB
Out of Stock-No Expected Date
$ 2.86 each
$ 2.59 each
$ 2.34 each
$ 2.13 each
$ 2.01 each
$ 1.91 each

Back to Top
Seals/Bolt Seals/Cable Seals
Back to Safety and Security
Highly Recommended