Bolt Security Seal For Cargo Yellow Stock 684-RY
Help protect your cargo against tampering and theft. Custom seals available.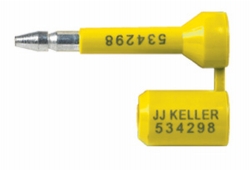 684-RY
Also available in Green (684-R)
Note: Stock seals must be purchased in increments/multiples of 50.
Bolt Security Seal For Cargo Yellow Stock 684-RY C-TPAT compliant and meet or exceed ISO/PAS 17712 requirements as High Security Seals.
These Bolt Security Seals provide a single source of information on mechanical seals which are acceptable for securing freight containers in international commerce. 3/8"-diameter bolt is made of ABS plastic and steel. Available in green or yellow.
Stock seals are pre-printed with "J. J. Keller" and a 6-digit number.
Product Description and Specifications
Pin is 3/8" diameter and measures 3 3/16" long; made of ABS plastic and solid steel
Barrel length is 13/8" long and constructed of ABS plastic and solid steel
Effective locking measurement is 1 3/8"
Pull-apart strength is 3,500 lbs
Stock and custom pin and barrel available in yellow or green with "J J KELLER" and six-digit consecutive numbers printed on barrel and matching number on pin. Custom seal is available with you company name (up to eight characters) on barrel and consecutive numbers (up to ten digits) on pin and barrel
Fully lubricated to guard against tampering through friction attach by spinning body in a drill
For extra security, plastic attachment between bolt and body keeps sequentially numbered parts together and immediately shows if any part is missing from its corresponding other half.
Closes easily with finger pressure, but a bolt cutter is needed to remove seal
Meets or exceeds ISO/PAS 17712 requirements as a high security seal.
Pricing and Ordering
Product
50-99
100-199
200-499
500-999
1,000-2,999
3,000-4,999
Quantity
Order Now!
Yellow 684-RY
$ 2.25 each
$ 2.04 each
$ 2.00 each
$ 1.92 each
$ 1.68 each
$ 1.46 each
Out of Stock-No Expected Date
Green 684-R
$ 2.25 each
$ 2.04 each
$ 2.00 each
$ 1.92 each
$ 1.68 each
$ 1.46 each
Out of Stock-No Expected Date

Back to Top
Seals/Bolt Seals/Cable Seals
Back to Safety and Security
Highly Recommended