FastGrip™ 500A 12" Cable Seal 5.0mm Black 328-R
An easy and effective solution for your company's security needs.
Out of Stock-No Expected Date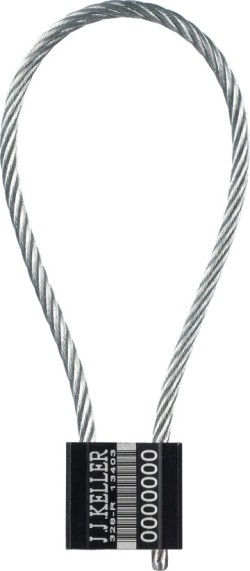 328-R
Note: Stock seals must be purchased in increments/multiples of 100.
For High Security!
Flexible, tamper-resistant, and easy-to-use, these pull-through cable seals are highly resistant, truly irreversible and can only be removed by using large bolt cutters.
FastGrip™ 500A 12" Cable Seal 5.0mm Black 328-R with 5.0mm diameter cable are C-TPAT compliant and meet or exceed ISO/PAS 17712 requirements as High Security Seals.
Each FastGrip 500A 12" Cable Seal is constructed of a black anodized aluminum alloy body. They are an ideal choice for your security needs ... whether that includes truckes, trailers, shipping or railroad containers, tanks, drums, valves or anything else you need to safeguard. Matching barcode numbered detachable control label also included. Drivers can remove the label and affix it to their shipping papers to help avoid errors and illegible numbers. Requires 5,000 pounds of pull-apart strength to disengage.
Features
5.0mm cable diameter
12" cable length
Exceptional durability
High-quality, galvanized steel aircraft cable
Corrosive-resistant material
Detachable control label with matching barcode numbering
High pulling load
Stock seals available in BLACK only. Seals must be purchased in increments of 100.
Pricing and Ordering
Product
100-499
500-999
1,000-2,999
3,000-,4999
5,000-9,999
Quantity
Order Now!
328-R
$ 2.16 each
$ 1.94 each
$ 1.77 each
$ 1.66 each
$ 1.59 each
Can be used for:
Railcars
Container Door Latches
Trailer Doors
Shipping Containers
Bulk & Liquid Tankers

Back to Top
Seals/Bolt Seals/Cable Seals
Back to Safety and Security
Highly Recommended