Master Lock® Weather Tough® Padlocks 704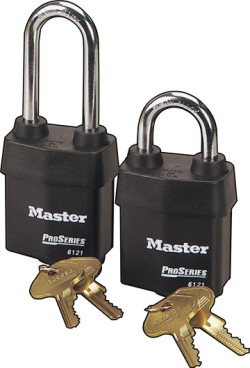 704
Rugged ... built for years of use!
Master Lock® Weather Tough® Padlocks Features Xenoy® thermoplastic cover with weather seals to protect locks from moisture, dirt, and other contaminants.
The lids snap over the keyholes and contain a unique flow channel to let inside moisture out.
Other high-quality components from Master® Lock include the following:
Laminated steel bodies for superior strength
5/16" diameter hardened boron alloy shackles with 7/8" horizontal clearance for superior cut resistance
Solid iron shackle shrouds resist harsh physical attacks
High security 5-pin locking cylinders for added pick resistance
Dual ball bearing locking mechanisms to resist prying and pulling
Two brass keys included with each lock. Multiple locks with common keys can be purchased as a custom order.
Choose from 1-1/8" or 2-1/2" shackle lengths.
Also available in Custom Keyed-alike
Pricing and Ordering
Product Code
Description
Pricing
Quantity
Order Now!
3783/704-R-A
2-1/2" Shackle
3782/704-R
1-1/8" Shackle

Discontinued

5475/704-RA-C
Custom Keyed-alike
with 2-1/2" Shackle
5474/704-R-C
Custom Keyed-alike
with 1-1/8" Shackle

More Locks and Padlocks
Back to Top
Back to Safety and Security
Highly Recommended