CSA A Driver's Guide DVD Training 115-DVD
Make sure your drivers are aware of their role in CSA.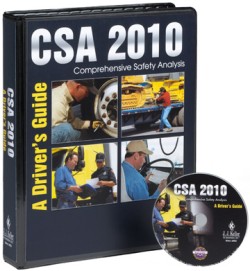 115-DVD
The 115-DVD has been discontinued.
Out of Stock-No Expected Date
Additional Discussion Guides 614-H
Out of Stock-No Expected Date
Additional Driver Handbooks 615-H
Product details here
CSA A Driver's Guide DVD Training 115-DVD clearly explains the key fundamentals drivers need to know:
The four components of CSA:

Data Collection
Safety Measurement
Safety Evaluation
Intervention

The seven BASICs (Behavior Analysis Safety Improvement Categories):

Unsafe Driving
Fatigued Driving (includes HOS)
Driver Fitness
Controlled Substances and Alcohol
Vehicle Maintenance
Cargo Related
Crash Indicator

The driver's role in improving, maintaining, or degrading their company's — and their own — safety fitness evaluation.
What drivers can do to prevent "high point" violations and have "good" inspections go into the Safety Measurement System (SMS).
This program includes several ready-to-use training tools:
(1) Closed-captioned video - Available on DVD, the program combines engaging video and editing technology with expertise from industry professionals at all levels.
(1) Discussion Guide - This 24-page guide provides additional information and discussion points to engage drivers in the training session.
(11) Driver Handbooks - Reviews key points and serves as a handy post-training reference.
(1) CSA Overview Poster - Hang in a break room or training area to give drivers a post-training reference.
Features
DVD Main Menu
Play Program - Plays entire main program.
Chapter Selections Allows easy access to specific subtopics for more focused training.

Introduction
The four major components of CSA:

Data Collection (explains the process and sources FMCSA will use to gather data about compliance by individual drivers and carriers)
Safety Measurement (explains how data on safety-related events are organized into seven BASICs and how those events are assigned a number value based on a violation's association with crash causation; includes examples of "time weighting" and "risk weighting")
Safety Evaluation (explains how the FMCSA will determine what, if any, actions will take place against the carrier AND driver)
Interventions (explains the actions FMCSA can take against violators under the CSA program and the impact on the carrier AND driver)

Working for a Positive BASICs Score (have good roadside inspection outcomes; avoid high point violations, and avoid crashes)
Summary

Quiz – 10 interactive questions; offers correct/incorrect remediation to reinforce effectiveness of training.
Message for Management - Gives introduction to the training program and topic for trainers/management. Includes commentary on measures a motor carrier can take to reduce the number of crashes their fleet is involved in.
Video Previews - Offer a sneak peek at training programs for related topics.
Basic System Requirements
A 400 Mhz or faster Intel-compatible CPU
A video card with AGP architecture and at least 4 MB of onboard RAM
At least 128 MB of system RAM (Windows 2000, XP and Vista users - 256 MB or more is recommended)
Windows 98 SE, Windows 2000, Windows Millennium Edition, Windows XP or Windows Vista (most software DVD decoders have either reduced function or no support under Windows 95 and Windows NT 4.0)
The latest version of Microsoft DirectX
DVD-ROM drive (DVD discs cannot be read by CD-ROM equipment)

On August 16, 2010, the Federal Motor Carrier Safety Administration (FMCSA) announced significant changes to the carrier and driver scoring process under its Comprehensive Safety Analysis (CSA) enforcement program.
The changes affect how several of the BASICs are measured, including numerous changes to the lists of tracked violations and their severities.
To see how the changes impacted J. J. Keller's CSA: A Driver's Guide video and driver handbook, see the links below.
Some of these changes have affected the content of the Discussion Guide included in the CSA: A Driver's Guide training program, especially the example violations used in the various learning activities. A complete revised guide is available for download.
Reviews concepts learned in the CSA: A Driver's Guide training program
Clearly explains the four components of CSA (data collection, safety measurement, safety evaluations, interventions)
Covers the seven BASICs (Behavior Analysis Safety Improvement Categories)
Includes 10-question quiz and five Frequently Asked Questions to aid in retention
Features driver receipt page to serve as a record that drivers were trained
Softbound, 16 pages
ISBN : 978-1-60287-712-2
Pricing and Ordering
15-24
25-49
50-99
100-199
200 or more
Quantity
Order Now!
$ 4.50 each
$ 3.45 each
$ 2.95 each
$ 2.45 each
$ 1.95 each
Compare Training formats here
Back to Top
Comprehensive Safety Analysis (CSA)
Training Main Page
Highly Recommended