A Driver's Guide to Hours of Service Canada DVD Training 12035/300-DVD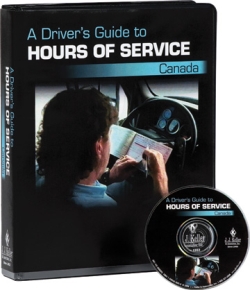 12035/300-DVD
Canada's newly revised Commercial Vehicle Drivers Hours of Service Regulations took effect Jan. 1, 2007.
Hours of Service regulations help reduce the risk of fatigue-related vehicle accidents. J. J. Keller's Hours of Service Canada: A Driver's Guide helps you understand the "hows" and "whys" of Canada's new Hours of Service regulations
With this informative training program, you will learn more about daily maximums, off-duty requirements, weekly cycles, and more. An easy-to-understand video clearly illustrates the HOS issues that matter most to you and your drivers.
Play Program - Plays entire program.
Chapter Selections – Allows easy access to specific subtopics for more focused training.

Introduction
Driving Rules
Completing the Daily Log
The Driver's Daily Log (Contents)
Animated Logging Examples
Conclusion

Review - Provides a quick way to refresh memory on key points of the program to better aid retention.
Quiz – 10 interactive questions; offers correct/incorrect remediation to reinforce effectiveness of training.
A 400 Mhz or faster Intel- compatible CPU
A video card with AGP architecture and at least 4 MB of onboard RAM
At least 128 MB of system RAM (Windows 2000, XP and Vista users - 256 MB or more is recommended)
Windows 98 SE, Windows 2000, Windows Millennium Edition, Windows XP or Windows Vista (most software DVD decoders have either reduced function or no support under Windows 95 and Windows NT 4.0)
The latest version of Microsoft DirectX
A DVD-ROM drive (DVD discs cannot be read by CD-ROM equipment)
The Hours of Service Canada: A Driver's Guide program includes several ready-to-use training tools:
(1) 25-minute, closed-captioned video

- Available on DVD, the program combines engaging video and editing technology with expertise from industry professionals at all levels.

(1) Instructor's Guide with Training Log

- Guide for trainers gives essential information and helps record important details.

(11) Driver Handbooks

- Reviews main ideas and comes with receipt page to provide proof of training.

(1) Canadian Duplicate Log

- Includes recap/training evaulation in English and French.

(1) Awareness Poster

- Reminds drivers about hours of service rules.

(1) Wallet Card Sheet

- Perforated sheet of 10 wallet cards for drivers to use as proof of training.
Training components can also be purchased individually.

Back to Top
Canadian Transportation
Highly Recommended