Vehicle Inspections DVD Master Driver Training Program Video Series 9586/901-DVD
Shows drivers the importance of routine vehicle inspections
New Updated DVD Kit: Vehicle Inspections Tractor Trailers DVD Training - 48468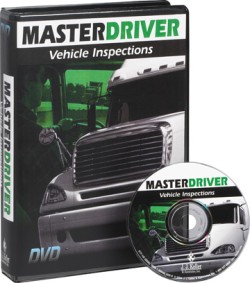 9586/901-DVD
ISBN: 1-59042-450-0
Vehicle Inspections DVD Master Driver Training Program Video Series 9586/901-DVD helps your drivers realize that routine inspections are essential to preventing breakdowns, out-of-service delays, and crashes. It discusses the importance of performing daily pre-trip, en-route, and post-trip inspections.
It also addresses required and recommended inspections, a standard procedure for conducting them, and the driver's vehicle inspection report (DVIR).
Features
DVD Main Menu
Play Program – Plays entire main program.
Chapter Selections– Allows easy access to specific subtopics for more focused training. (Items in boldface are actual menu selections.)

Hazard Perception Challenge Question – The video opens with an inspection scenario.
Introduction – Explains that CMV drivers are responsible for conducting thorough pre-trip, on-the-road, and post-trip vehicle inspections.
Pre-Trip Inspection – Reviews a seven-step vehicle inspection process and emphasizes that drivers should conduct their inspections the same way every time so they don't miss anything.
On-The-Road and Post-Trip Inspections – Reminds drivers about the requirements to conduct on-the-road and post-trip vehicle inspections, including filling out a driver vehicle inspection report (DVIR).
Conclusion – Emphasizes the critical need to conduct thorough vehicle inspections and to complete accurate and legible DVIRs.
Hazard Perception Challenge Answer – The video closes with an inspection scenario.

Review – Provides a quick way to refresh memory on key points of the program to better aid retention.
Commentary – Additional interviews of industry professionals.
Quiz – 10 interactive questions; offers correct/incorrect remediation to reinforce effectiveness of training.
Message for Management – Gives introduction to the training program and topic for trainers/management.
Previews – Offers a sneak peek at a related training program.
A 400 Mhz or faster Intel- compatible CPU
A video card with AGP architecture and at least 4 MB of onboard RAM
At least 128 MB of system RAM (Windows 2000, XP and Vista users - 256 MB or more is recommended)
Windows 98 SE, Windows 2000, Windows Millennium Edition, Windows XP or Windows Vista (most software DVD decoders have either reduced function or no support under Windows 95 and Windows NT 4.0)
The latest version of Microsoft DirectX
A DVD-ROM Drive
NOTE: DVD discs cannot be read by CD-ROM equipment
(1) 12-minute, closed-captioned video - Available on DVD (with extra bonus features), the program combines engaging video and editing technology with expertise from industry professionals at all levels.
(1) Trainer Bulletin - Provides background info on the topic covered and gives a brief overview of the video. Also includes a 5-question quiz and handout exercise for drivers.
(11) Driver Skill Cards - Recap key points from the training program and include receipts for you and the driver to document training.
Back to Top
Master Driver Video Series
Driving
Training Main Page
Highly Recommended