Detailed Driver Vehicle Inspection Report 2-Ply with Carbon Book Format Checklist Style B 685/15-B
Satisfy DOT Vehicle Inspection regulations - 396.11 and 396.13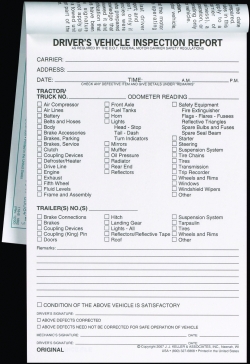 685/15-B
View PDF Sample
This Detailed Driver Vehicle Inspection Report 2-Ply with Carbon Book Format Checklist Style B 685/15-B lists specific tractor and trailer parts to help simplify inspection... drivers simply check-off parts that need repair.
This detailed DVIR satisfies DOT Vehicle Inspection regulations 396.11 and 396.13.
This book format detailed driver vehicle inspection report includes key regulations printed on inside front cover to remind of DOT-required procedures.
Specifications
2-Ply
with Carbon
Book Format
31 sets
Checklist Style B
Overall Size: 5 1/2" W x 8 1/8" L detached
Features
Printed DOT key regulations on inside front cover
Pricing and Ordering
25-99
100-199
200-299
300-499
500-999
1,000 or more
For more price info
Quantity
Order Now!
$ 3.14 each
$ 2.65 each
$ 2.40 each
$ 2.31 each
$ 2.05 each
$ 1.68 each
Contact Us

Back to Top
Detailed Vehicle Inspection Reports
Vehicle Inspection and Maintenance Page
Highly Recommended