Detailed DVIR w Illustrations Refuse Vehicle Inspection Report 2-Ply Carbonless Book Format 13928/157-B
Satisfy DOT Vehicle Inspection regulations 49 CFR §396.11 and §396.13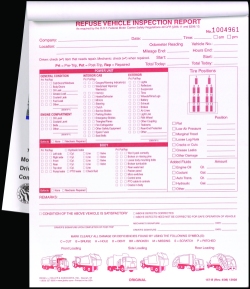 13928/157-B
View PDF Sample

Imprint for this log book is
available here.
Use this Detailed DVIR w Illustrations Refuse Vehicle Inspection Report 2-Ply Carbonless Book Format 157-B to help comply with 49 CFR §396.11 and §396.13. This DVIR includes common refuse truck components for the body, tire positions and added fluids.
Also includes illustrations of the three main body styles: front, side and rear loading units. Consecutively numbered with 7 digits.
This book format detailed DVIR with illustrations for tanker vehicles include key regulations printed on inside front cover to remind drivers of DOT-required procedures.
Specifications
Book Format
31 sets of forms
2-Ply
Carbonless
Overall Size: 8 1/2" W x 11" L detached
Pricing and Ordering
15-99
100-199
200-299
300-499
500 or more
Quantity
Order Now!
$ 7.32 each
$ 6.66 each
$ 5.82 each
$ 5.51 each
$ 5.14 each

Back to Top
Detailed Vehicle Inspection Reports with Illustrations
Vehicle Inspection and Maintenance Page
Highly Recommended