Simplified DVIR Horizontal Format 3-Ply Book Format with Carbon 13-B
Satisfies DOT Vehicle Inspection regulations - 396.11 and 396.13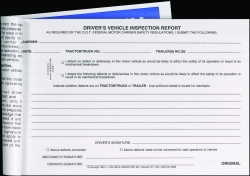 Click to enlarge

Imprint for this DVIR is available here.
This Simplified DVIR Horizontal Format 3-Ply Book Format with Carbon 13-B is a simplified version of the detailed driver vehicle inspection report. It has 15 inspection areas and room to record any defects.
This 3-ply Simplified DVIR is book format horizontal format DVIR that includes key regulations printed on inside front cover to remind drivers of DOT-required procedures.
Specifications
3-Ply
Book Format
with Carbon
Horizontal Format
Overall Size: 8 1/8" W x 5 1/2" L detached
Features
Key regulations on inside front cover
15 inspection areas
room to record any defects
Pricing and Ordering
100-199
200-299
300 or more
Quantity
Order Now!
$ 2.69 each
$ 2.53 each
$ 2.35 each

Back to Top
Simplified Driver Vehicle Inspection Reports
Vehicle Inspection and Maintenance Page
Highly Recommended