2 in 1 Bus Log/DVIR with Pre- and Post-Trip Inspections 13932/706-LD
Carbonless Book Format 2-Ply with DVIR
Contains the Most Commonly Used Bus Log Format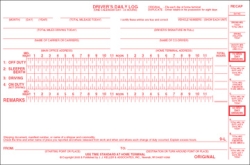 13932/706-LD
PDF Sample
The Carbonless 2 in 1 Bus Log/DVIR with Pre- and Post-Trip Inspections 706-LD is a 2-Ply Book Format log book with a DVIR. The log portion on the top half of the page is the same as the 9-L Log Book, our most popular bus log, with an added DVIR at the bottom. This log book is printed on carbonless paper, eliminating the need for a carbon between each ply.
Specifications
Carbonless
with DVIR
with Recap
2-Ply
Book Format
31 Sets
Overall Size: 8 1/2"W x 11"L detached
Features
Useful features:
Check boxes for pre- and post-trip inspections
Expanded list of inspection points includes special service door and lift components.
Pricing and Ordering - Stock
12-99
100-199
200-299
300-499
500-999
1,000 or more
For more price info
Quantity
Order Now!
$ 8.03 each
$ 6.95 each
$ 6.66 each
$ 5.98 each
$ 5.08 each
$ 4.20 each
Contact Us

Back to Top
Bus/Motorcoach Log Books Main Page
Log Books Main Page
Log Books Comparative Matrix
Highly Recommended