Canadian 2 in 1 Driver's Daily Log Books
Comply with Canada's Hours of Service Regulations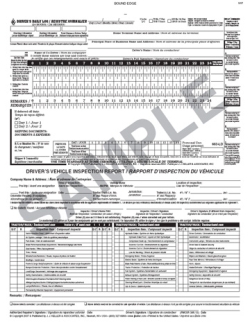 J. J. Keller's easy-to-use Canadian Driver's Daily Log Books contain all the required items to help drivers comply with Canada's Commercial Vehicle Drivers Hours of Service Regulations.
Log books contain:
31 sets of 2-ply log sheets.
Also include instructions, NSC 13: Schedule 1, and monthly log summary sheets, which are specific to both Canada and the United States for cross-border operations.
The detailed Driver Vehicle Inspection Report (DVIR) is printed on the bottom portion of the face copy.
Available in English-only and English/French versions.
Detailed DVIR at the lower half
* English/French; ** English only.
Back to Top
Go Back To Canadian Logs Main Page
Log Books Main Page
Log Books Comparative Matrix
Highly Recommended