Canadian Driver's Daily Logs
For Fleet Operators with Operations in Canada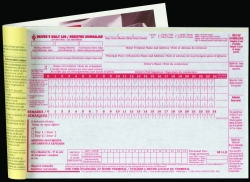 Canadian Driver's Daily Log Books contain all the required items to help drivers comply with Canada's Commercial Vehicle Drivers Hours of Service Regulations.
English/French versions are available with detailed DVIR, with or without 7- and 14-day recap.
English-only version available with detailed DVIR plus 7- and 14-day recap.
Books include instructions, NSC 13: Schedule 1, and monthly log summary sheets, which are specific to both Canada and the United States for cross-border operations.
31 sets of 2-ply forms per book, plus sheet of carbon paper.
* English/French; ** English only.
Back to Top
Go Back To Canadian Logs Main Page
Log Books Main Page
Log Books Comparative Matrix
Highly Recommended