Right To Know Compliance Manual (Hazard Communication) OSHA 32-M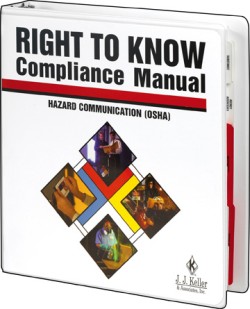 32-M
Quick access to the information you need to comply with OSHA's Hazcom standard!
J. J. Keller's easy-to-use Right To Know Compliance Manual cuts through confusing regulatory language to spell out basic solutions for complying with each of the major sections under OSHA's Hazard Communication Standard. The manual provides step-by-step guidance on ...
Developing and maintaining a chemical inventory
Conducting employee training
Making MSDSs available to employees
Maintaining accurate records
Developing a written program
And more!
Organized by subject for quick reference, the Right To Know Compliance Manual contains a variety of supplemental materials including labels, a label chart, an MSDS request form, a chemical hazards chart, ready-to-copy employee handouts, and three written program samples.
Loose-leaf, 3-ring bound, 450 pages.
ISBN 0-934674-66-3
| Sample Pages | PDF* | File Sizes |
| --- | --- | --- |
| Table of Contents | | 16KB |
| Hazard Communication | | 202KB |
| Latex Allergy | | 81KB |
| Machine Guarding | | 89KB |
Note: You must have Adobe Acrobat Reader installed to view the PDF sample pages. If you are not able to view the sample pages, click here to download Adobe Acrobat Reader from Adobe website for FREE.
OSHA Guides, Handbooks and Manuals
Highly Recommended