Workplace Safety Pro Manual + Online Edition with 1-Year Update Service 36537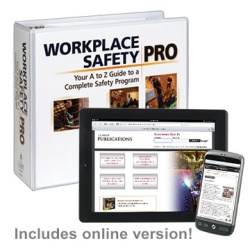 36537
Over 500 pages of "how-to" guidance on a vast range of regulatory and non-regulatory issues.
Whether it's your first year on the job or your 20th, J. J. Keller's Workplace Safety Pro Manual gives you the tools you need to create and maintain a safe and compliant workplace.
This handy resource outlines the goals and objectives of a workplace safety program and provides the blueprint for building it. Already have a safety program? The manual shows you how to comply by using proven best-practices and how to stay in compliance by introducing solid, easy-to-use safety management practices.
Whether your safety program is in the beginning phase or well-established, you'll reference this manual again and again for answers to all your safety and non-safety issues!
The Workplace Safety Pro Manual specifically discusses ...
Managing employees
Employee welfare
Directing safety
Recordkeeping
Preparing for emergencies
Hazard assessment
Training
Physical, mechanical and health hazards
OSHA
Loose-leaf, 3-ring bound, 741 pages.
ISBN 1-59042-284-8

Workplace Safety Pro product outline:
GETTING STARTED
Selling safety
Chart your safety course
Use Total Quality Management to sell safety
Build your case through Return on Investment
MANAGING EMPLOYEES
Goals for managing employees
HR techniques for the safety manager
New employee orientation
Americans with Disabilities Act (ADA)
Workplace violence
Sexual harassment
EMPLOYEE WELFARE
Goals for employee programs
Safety and health programs
Drug-free workplace
Employee assistance program (EAP)
Return-to-work programs
Job stress
Shiftwork
DIRECTING SAFETY
Goals for directing safety
Policies and procedures
Risk management and loss control
Behavior-based safety
Safety committees
Working with contractors
Industry consensus standards
RECORDKEEPING
Goals for recordkeeping
Written safety plans
Workers' compensation
Injury and illness recordkeeping
OSHA's recordkeeping requirements at-a-glance
PREPARING FOR EMERGENCIES
Goals for emergency preparation
Media communication
Workplace security
Bio-terrorism and chemical terrorism
Disaster recovery
Medical and first aid
Accident investigation
Emergency action plans
Fire prevention plans
HAZWOPER
HAZARD ASSESSMENTS
Goals for hazard assessments
Workplace hazard assessment
Job hazard analysis
Area audits
TRAINING
Goals for employee training
Steps to develop a training program
Training techniques
Training forms
Training requirements at-a-glance
TRAINING EXERCISES AND HANDOUTS (for each Quick Hits topic)
QUICK HITS: Physical hazards
Ladders and stairs
Slips, trips, and falls
Entrances and exits
Signs and markings
Fire protection
Personal protective equipment
Process safety management
Flammable and combustible materials
Confined spaces
Welding
QUICK HITS: Mechanical hazards
Forklifts
Cranes
Portable tools
Lockout/tagout
Machine guarding
Electrical safety
QUICK HITS: Health hazards
Respiratory protection
Emergency eyewash and shower
Bloodborne pathogens
Hazard communication
Noise exposure
Ergonomics
Asbestos
Working safely with chemicals
Mold
OSHA
What is OSHA?
Federal/State relationship
OSHA consultation services
Voluntary Protection Program (VPP)
Workplace inspections
RESOURCES
Glossary of safety and health terms
Glossary of safety and health acronyms
Agency contact information
Association contact information
WORKPLACE SAFETY PRO NEWS
| Sample Pages | PDF* | File Sizes |
| --- | --- | --- |
| Table of Contents | | 19KB |
| Directing Safety | | 63KB |
| Employee Welfare | | 97KB |
| Hazard Assessments | | 52KB |
| Recordkeeping | | 49KB |
Note: You must have Adobe Acrobat Reader installed to view the PDF sample pages. If you are not able to view the sample pages, click here to download Adobe Acrobat Reader from Adobe website for FREE.
OSHA Guides, Handbooks and Manuals
Highly Recommended